Wall of Death, Harley Stunts & MORE!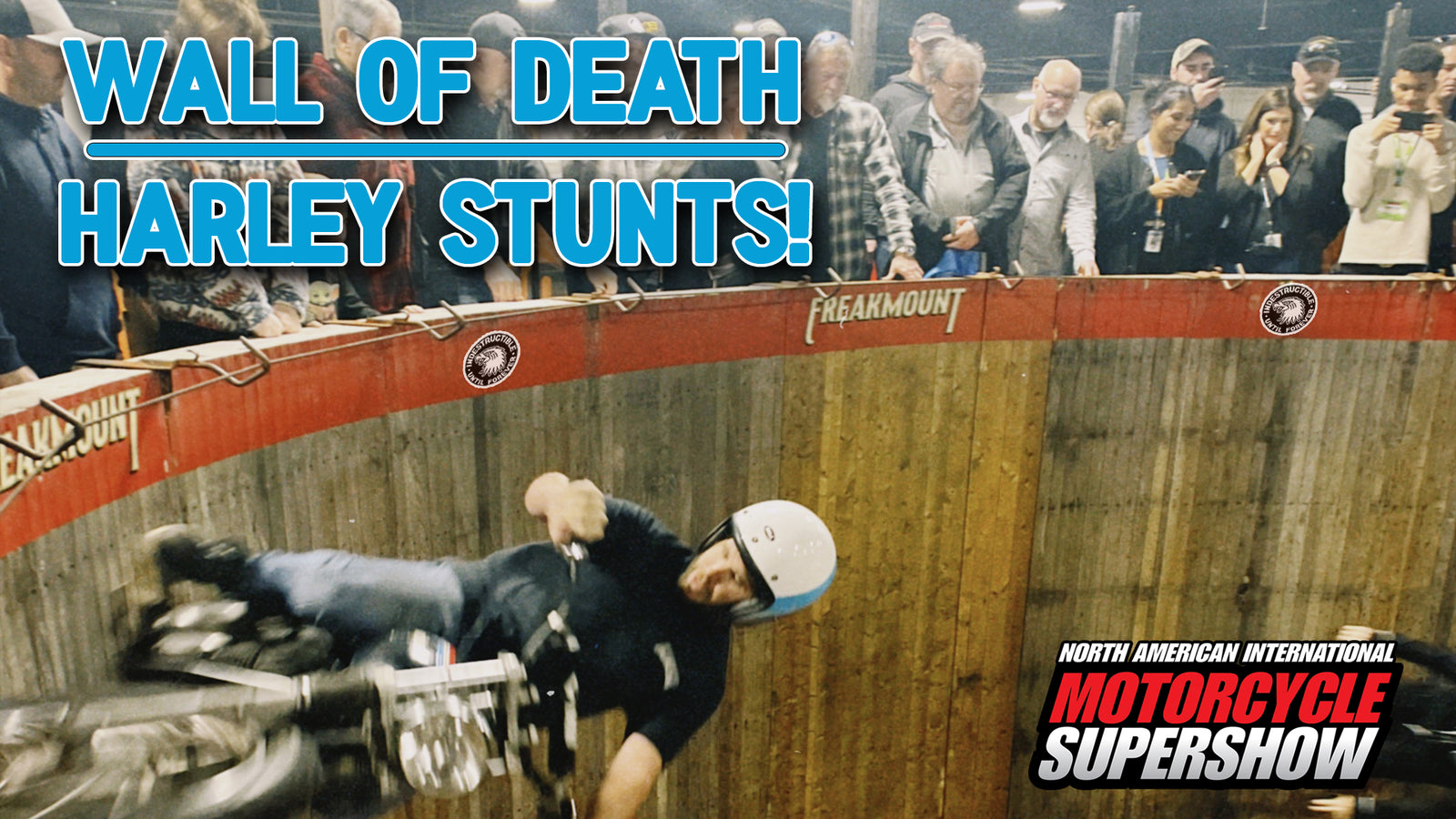 If you're a motorcycle enthusiast, you know that there's nothing quite like the feeling of hitting the open road on your two-wheeled machine. But there's something even more exhilarating about being part of the larger community that shares your passion. That's why events like the Motorcycle Super Show are so important to riders from all over the world. In Part 1 of our vlog, we gave you a taste of what this incredible event has to offer. In Part 2, we're diving deeper into the action, as we check out the Wall of Death, the Highway Heathens Stunt Show, and catch up with our friend Liam of Treadwell Clothing.
The Wall of Death - A Thrilling Performance
If you've never seen the Wall of Death, you're in for a treat. This stunt show has been around for over a century, and it's still just as awe-inspiring today as it was when it first began. The Wall of Death is a wooden cylinder, about 30 feet in diameter, with steeply sloping sides. Inside the cylinder, riders on vintage motorcycles race around the wall, defying gravity as they climb nearly perpendicular to the ground.
As we watched the riders in action, we couldn't help but feel a sense of awe and respect for their skill and bravery. But the Wall of Death isn't just about the stunts - it's also a celebration of the history of motorcycling. Many of the motorcycles used in the show are vintage models, restored to their former glory and still capable of impressive feats of speed and agility.
Highway Heathens Stunt Show - Pushing the Limits
If you thought the Wall of Death was impressive, wait until you see the Highway Heathens Stunt Show. This group of talented riders pushes the limits of what's possible on a motorcycle, doing incredible stunts that will leave you on the edge of your seat.
From wheelies and burnouts, these riders fearlessly throw themselves and their bikes into the air, defying gravity and showing off their incredible skills. But as with any extreme sport, there's always an element of danger - and the Highway Heathens are no exception. These riders know the risks they're taking, but they're willing to take them in the name of entertainment and the thrill of the ride.
Treadwell Clothing - Style and Substance
Of course, no motorcycle event would be complete without a little bit of style. That's where Treadwell Clothing comes in. This Canadian company specializes in high-quality, stylish motorcycle gear, designed for riders by riders.
We caught up with Liam, the founder of Treadwell Clothing. Liam is passionate about creating gear that not only looks good, but is also functional and durable enough to withstand the rigors of the road.
Subscribe for More Motorcycle Content
You won't want to miss the Motorcycle Super Show if you love motorcycles and the amazing community that surrounds them. Don't worry if you can't attend in person; we've got you covered. For more vlogs and coverage subscribe to our channel.
Conclusion
It was an amazing event that brought together motorcycle aficionados from around North America. The Highway Heathens Stunt Show, the Wall of Death, and Treadwell Clothing were just a few of the thrilling events we saw and the passionate people we encountered. What the future has in store for the Motorcycle Super Show excites us!
---